As a subscriber to Case Medical's weekly blog...
You know that we've been preparing to host a live online event, "Sustainable Cleaning Chemistries for a Healthier World", happening today, February 23, 2022 at 3-5:00pm EST.
Now we'd like to introduce to you the panelists who have so generously volunteered to share their time and knowledge with us all. Each panelist brings experience and perspective from a variety of vantage points, from healthcare, industry, regulatory, sustainabily, and toxicology.

The Organizer who has worked tirelessly to create this event.
Marcia Frieze, MS is CEO of Case Medical, and a US EPA Safer Choice Partner of the Year. Ms. Frieze is a lifelong advocate for safer, more sustainable practices in healthcare, has invented and developed numerous products for cleaning and sterilization.

Our Moderator who will keep us on task and submit your questions to the panel.
Roger McFadden, MS Chemistry is President and Chief Science Officer at McFadden and Associates, where Roger is master formulator of cleaning and coatings products for the commercial and household market sectors. He is also a chemical safety expert and educator for health care organizations and others.

Nancy Chobin, RN, AAS, ASCP, CSPM, CFER has worked in the sterile processing profession for over 40 years as a manager, mentor, educator and is currently a consultant and founder of Sterile Processing University, which supports continuing education, certification, and best practices.

Richard E. Engler, Ph.D. is Director of Chemistry with Bergeson & Campbell, P.C. Dr. Engler is a 17-year veteran of the U.S. Environmental Protection Agency (EPA) and is one of the most widely recognized experts in the field of green chemistry, having served as senior staff scientist in EPA's Office of Pollution Prevention and Toxics (OPPT) and leader of EPA's Green Chemistry Program.

John Howell, BS, a biologist, represents Novozymes North America a leading manufacturer of enzymes for cleaning applications and wastewater treatment. John continues to work with detergent manufacturers dedicated to impacting cleaning outcomes.

John Ullman, BS, MBA is the Safer Chemicals and Procurement Director at Health Care Without Harm advocating for his two passions: sustainability and public health. John has been in the sustainability field for over a decade, most recently at Harvard University's Office for Sustainability, and has worked as a cancer researcher at the Johns Hopkins School of Medicine.

Meg Whittaker, Ph.D. is the Managing Director and Chief Toxicologist of ToxServices LLC. Dr. Whittaker is a pioneer in the field of chemicals alternatives and an accomplished human health risk assessor.  She performs chemical hazard assessments to support the selection of safer chemicals for the GreenScreen for Safer Chemicals, U.S. EPA Safer Choice, and ChemFORWARD.
Case Medical has made safer cleaning chemistries a corporate mission, the company is recognized by the EPA for its outstanding achievement in the manufacture and formulation of chemical solutions that are equal to or better than products in their class and proven safer for people and for the environment. With this program, geared to healthcare professionals, Case Medical and partners shine a light on hazardous chemicals quietly concealed in ordinary cleaning products, which can result in a wide range of illnesses, from headache and nausea to asthma attacks and COPD.
Hope you will join us for the "Sustainable Cleaning Chemistries for a Healthier World" conference and develop a deeper commitment to building a safer, sustainable future.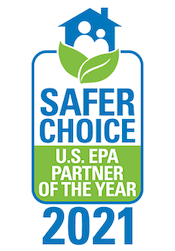 Visit us at www.casemed.com to learn more about our products and how they can help your facility lighten its impact on the environment for the good of us all.
Kindest Regards,
Marcia Frieze and the Case Medical team